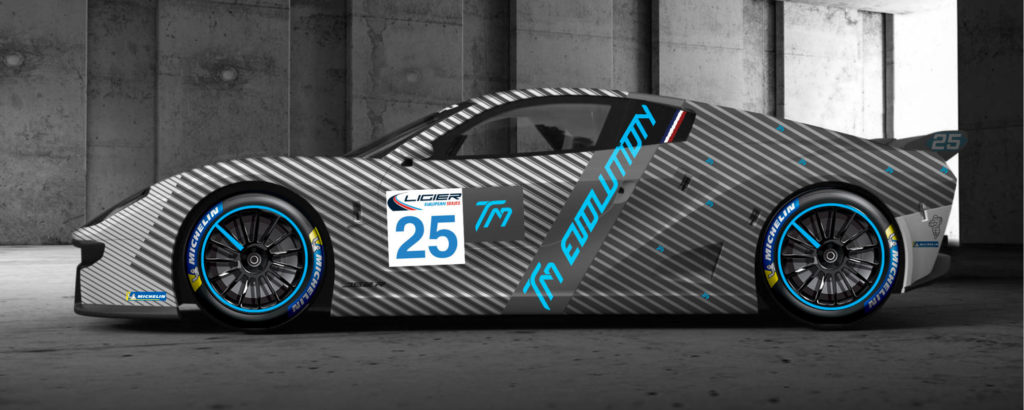 News – December 20, 2019
A new team has joined the field for the first season of the Ligier European Series. French outfit, TM Evolution, the 2019 French Endurance Touring Trophy champion in the T6 category, has entered two Ligier JS2 Rs.
Founded in 2012 by Bruno Chaudet, TM Evolution began its career in the Legends Cars Cup winning the French championship title in 2016. It then tackled the Mitjet series and filled the runner-up spot in the 2017 championship. But there was no stopping TM Evolution and in 2018 and 2019 it competed in the Endurance Touring Trophy (TTE) and the Ultimate Cup Series. The team met with more success winning the French championship title in the 2019 TTE in the T6 category.
Since 2018, the TM Evolution squad has been strengthened by the inclusion of the SOAT 111 association team and it has set itself a new challenge, the Ligier European Series with two Ligier JS2 Rs.
"It's a new venture for the team," says Bruno Chaudet, the Team Manager. "The car's really fun to drive and we were attracted by this new one-make formula, which will be run on the most beautiful circuits in Europe at the same time as the European Le Mans Series. We want to use the Ligier European Series to accompany drivers, novices or seasoned competitors, who haven't yet dared to launch themselves in endurance. The Ligier European Series is a great school for this. Our aim is to bring them to the topmost step of the endurance pyramid. To achieve our objectives we're limiting ourselves to two cars. Above all, the drivers will benefit from the helpful advice of Fabien Lavergne, 2019 ELMS European champion."
Alain Grand will be at the wheel of the Ligier JS2 R #11. He's been an experienced, enthusiastic driver for 50 years who began his career in rallies on tarmac, gravel and snow before taking the plunge in the Legends Cars Cup in 2004. He was crowned French champion in 2009, and in 2015 he finished second in the French Mitjet Supertouring Championship before moving on to GT4.
The team in the #25 car is in the process of being finalised.