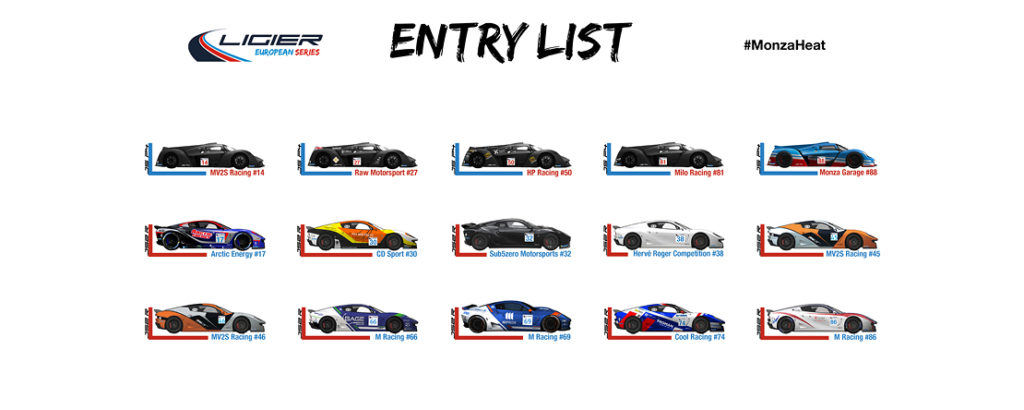 Press Release – October 5, 2020
For the fourth and penultimate round of the Ligier European Series, at the "Temple of Speed", Monza circuit in Italy this October 9 and 10, an expanded field of 15 entries, composed of 10 Ligier JS2 Rs and 5 Ligier JS P4s, is expected. Some new teams will take part in this meeting that should provide some stout on-track battles.
Ligier JS2 R: Sébastien Baud and Cool Racing still lead the category.
After his dominating run in the opening Heat at Circuit Paul Ricard in July with a brace of victories, Sébastien Baud did it again at the controls of the #74 Cool Racing Ligier JS2 R at Heat 3, on August 28 and 29, again at Le Castellet. All this success has allowed Sébastien to build a comfortable lead in the provisional classification with 133 points.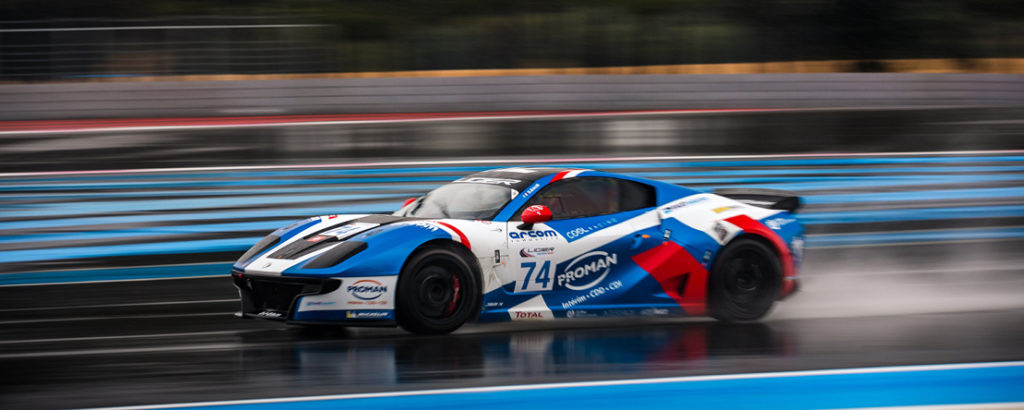 With four races remaining, the championship battle is not yet won and Sébastien will face stiff competition. M Racing and the #66 Ligier JS2 R driven by Erwan and Natan Bihel is currently second in the championship with 80 points. The father and son duo has shown remarkable consistency all season and could well reverse the trend at Monza.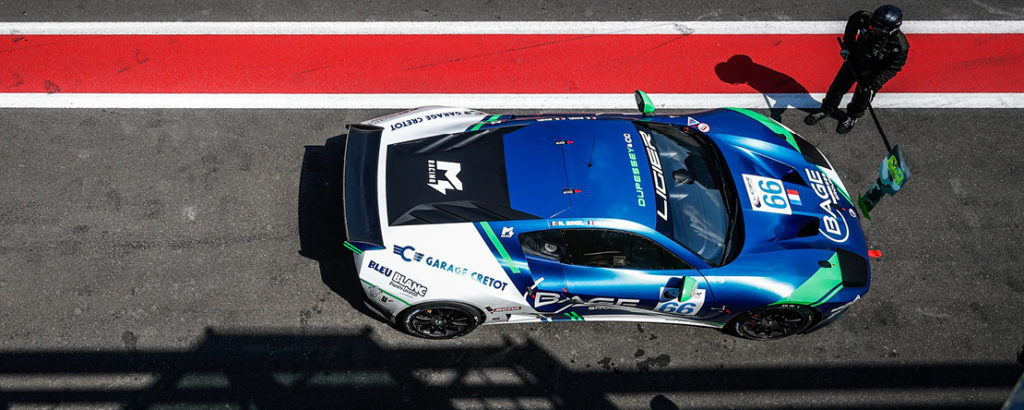 With 69 points, the #38 HRC Ligier JS2 R, with Fabien Michal behind the wheel, and Ligier European Series newcomer, Hervé Roger, could also be a threat. Arctic Energy and Russian drivers Nerses Isaakyan and Sergey Egorov in the #17 car are currently fourth in the provisional order, just seven points behind the French outfit.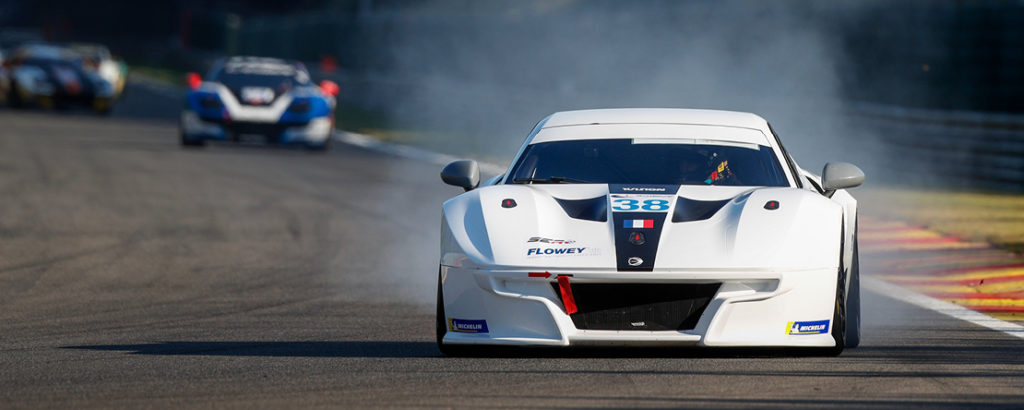 Although it will be more difficult for them to move to the sharp end of the classification, nothing is yet decided for the other entries: M Racing with the #86 of Mathieu Martins and the #69 of Laurent Millara, MV2S Racing and the #45 of Mikhaïl Makarovskii and Victor Shaytar, and the #46 of Antoine Chapus and his new team-mate, Gaëtan Essart, as well as CD Sport and the #30 JS2 R of Claude Dégremont and Baptiste Berthelot.
While TM Evolution and its #25 and #11 Ligier JS2 Rs will not be in attendance at Monza, the Sub5Zero Motorsports team makes its Ligier European Series debut with its #32 Ligier JS2 R with drivers Andreas Ritzi and Riccardo Di Persia. "We decided to take part in the Monza race because it's our home race", explains Domenico Schiattarella. "Our aim as coach is to train young talents and also gentleman drivers through the Sub5Zero Performance Driving Academy team. Together with my business partner and gentleman driver, Andreas Ritzi, we decided to give a chance to a very talented young boy like Riccardo Di Persia who will race with Andreas. I think the Ligier European series is very competitive and it is the ideal playground to start pushing our drivers to a higher level".
Ligier JS P4: Three new teams ready to get stuck in title duel between HP Racing Team and Milo Racing
With three victories and five podium finishes, HP Racing Team and the #50 Ligier JS P4 driven by Andrea Dromedari lead the championship with 123 points. The all-Italian squad is ready to defend their title on home soil.
Conspicuous by its absence at the last Heat at Circuit Paul Ricard, the Belgian Milo Racing team is not however about to give up. With 83 points, Kévin Blathazar behind the wheel of the #81 car will do whatever it takes to get back in the fight.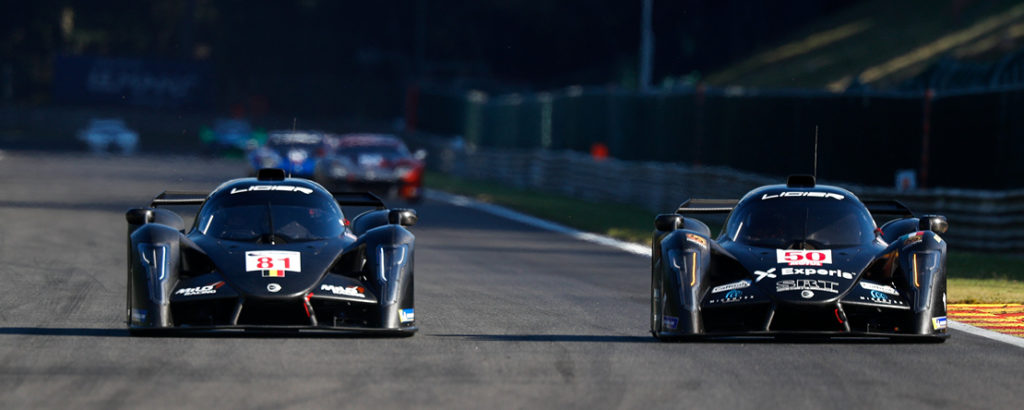 The category leaders will have to cope with three new crews that may try to steal victory from them. The English RAW Motorsport team makes its return. They had made the trip with the #27 Ligier JS P4 of the Ferguson brothers to Spa-Francorchamps before they had to withdraw due to the sanitary measures imposed by the United Kingdom. "We hope that this time there will be no late obstacles to prevent us getting to Monza, but who knows in these crazy times!", comments Andrew Ferguson. "Jeremy and I have raced at Monza several times in a Radical SR8, so we know the circuit well. Our plan at present is to enter the full season in 2021 with RAW Motorsport and also to take part in some Ultimate Cup Series rounds in our LMP3 too. Hopefully, in 2022 we will enter the Michelin Le Mans Cup series".  The team also hopes to participate to the finale at Portimao depending on the evolution of the sanitary measures.
By his side, MV2S Racing will line-up, in addition to its Ligier JS2 Rs, a Ligier JS P4. The #14 car will be another father-son combo, Franck and Alex Marchois. This will be a first in this category for MV2S Racing and for the drivers as well. "Franck is a lover of Italy", explains Stéphane Roux, MV2S Racing Team Manager. "He has raced for us in Mitjet 2-litre and Mitjet Supertourism and wanted to have some fun at Monza and also see what it is like behind the wheel of a sports prototype. Alex drove in the opening round in the #46 Ligier JS2 R and this will be his first weekend in the JS P4. This is a great opportunity for the entire team to discover the Ligier JS P4."
The Italian Monza Garage team which regularly competes in LMP3 and GT will make its debut in the championship with the #88 Ligier JS P4 driven by Italian Federico Leo, who is a GT regular and Australian John Corbett, who raced a Ligier JS P3 and a Ligier JS P217 in 2019. "I'm deeply convinced that the future of motorsport will be more and more relying on premium track days and gentlemen series, the signals are strong and coming from all the continents", comments Alessandro Breveglieri, Monza Garage Team Manager. "Ligier's single make series follow this path, and we are happy to participate to our first race with the JS P4 at the Monza round, looking to be part of the grid again in a close future."
15 cars on the grid, new teams and drivers coming from diverse horizons. The level of competition promises to be high, with many battles on the track.
The Monza Heat begins Friday October 9 at 10:40 am with the a one-hour free practice. The two 20-minute qualifying sessions to determine the starting grid for each race are scheduled for Friday afternoon at 2:20 pm and 4:30 pm. The two one-hour races will start Saturday morning at 10:50 am and Saturday afternoon at 2:50 pm.
CLICK HERE for the provisional entry list
CLICK HERE for the weekend programme for Heat 4