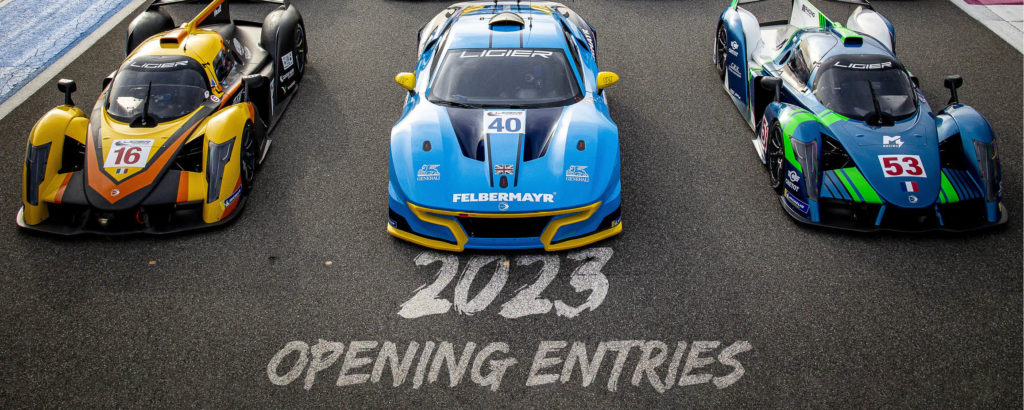 The Ligier European Series is ready for season 4. The calendar has already been announced and the season will begin in Barcelona on 21-22 April 2023 and end in Portimão on 20-21 October, with the coronation of the champions and the exceptional prize money awards. You have until 1st March 2023 to enter!
With three years of experience and a growing field, the Ligier European Series is ready for its fourth season. Like this year, six rounds will be on the programme in 2023. The series will follow the calendar of its big brothers, the Michelin Le Mans Cup and the European Le Mans Series, except for the event at the Le Mans 24 Hours, which will take place as a curtain raiser to the Centennial, during the test day. Also renewed is the substantial prize scheme of €250,000, which will help the Ligier JS P4 and JS2 R category champions to continue their ascent up the endurance racing pyramid.
After a year's absence, the championship will return to Spain at the highly regarded Barcelona-Catalunya circuit to kick off the 2023 season on 21 and 22 April. The Ligier JS P4 and Ligier JS2 R drivers will then make their way to Italy for a meeting at the Autodromo Enzo e Dino Ferrari in Imola on 5 and 6 May. A circuit that is very popular among the drivers and which debuted on the Ligier European Series calendar in 2022.
Then will come the showpiece round of the season at the 24 Hours of Le Mans circuit in France on 4 June, during the test day. The first half of the season will end in the sunshine of the Var region at the Paul Ricard circuit in Le Castellet on 14 and 15 July. Following the summer break, the competitors will head to the legendary Spa-Francorchamps circuit in Belgium on 22 and 23 September. The 2023 season will close with a bang on the rollercoaster Autódromo Internacional do Algarve, in Portimão, Portugal, on 20 and 21 October.
The eligible drivers are Bronze, Bronze-Bronze duo, Bonze-Gold duo, Bronze-Silver duo, Silver, Silver-Bronze duo, Silver-Silver duo.
The full season entry fees are €18,900 excl. taxes. For entries on a race-by-race basis the fees are €4,000 excl. taxes, except for the support race on the 24 Hours of Le Mans track. The entry fees for the Le Mans Heat are €5,500 excl. taxes.
To enter the Ligier European Series, contact Simon Devillepoix at the following email address : entry@ligiereuropeanseries.com