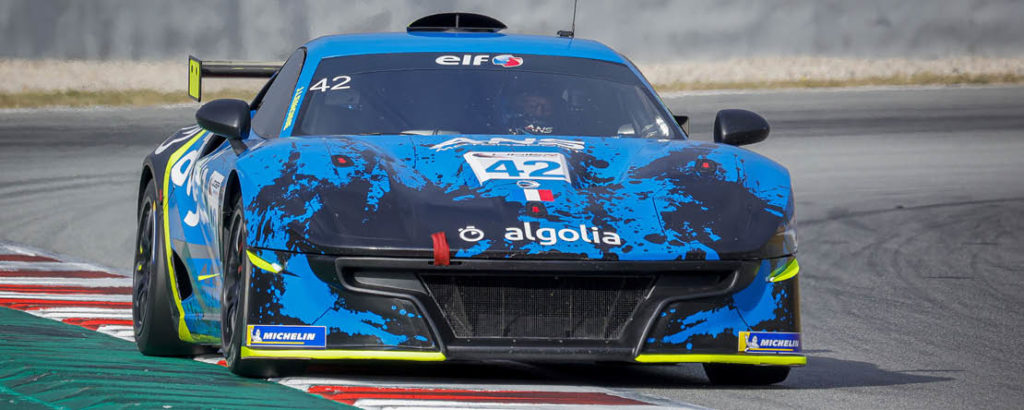 After a two-year absence, the Ligier European Series has returned to Barcelona for the start of season four. The opening free practice session of the season concluded with the #48 Team Virage Ligier JS P4 at the top of its category. The #42 ANS Motorsport Ligier JS2 R was the fastest GT car.
JS P4 category: Team Virage and Mihnea Stefan, first in free practice 1
The 2022 JS P4 team champion, Team Virage, made an impressive start to the defence of their title, with two of its cars at the top of the timesheet. The #48 (with Romanian driver Mihnea Stefan) and #60 (with the Anglo-Portuguese duo George King/Bernardo Pinheiro) Ligier JS P4s battled it out for the best lap in the category. Mihnea Stefan, in the #48, got the upper hand on the final lap, with the fastest lap of 1:44.871s. Six-hundredths separates him from his teammates in the #60.
The #4 HPRacing by Monza Garage Ligier JS P4 with Georgios-Periklis Kolovos and Kaitatzis Panagiotis posted the best time of 1:54.109s in the AM class.
JS2 R category: ANS Motorsport and Julien Lemoine quickest in GT
In the Ligier JS2 R category, AM driver Julien Lemoine in the #42 ANS Motorsport car fought for the top spot with Fabien Delaplace and Laurent Piguet in the #96 CTF Performance car. The #42 won the battle with the best time of 1:53.189s.
In the PRO-AM class, the "Racing Reverend" Simon Butler and Maximus Mayer in the #10 RLR MSport Ligier JS2 R set the fastest lap of 1:53.507s.
Free practice 2 takes place in the early afternoon at 1:50 pm.
For the results of free practice 1, CLICK HERE.