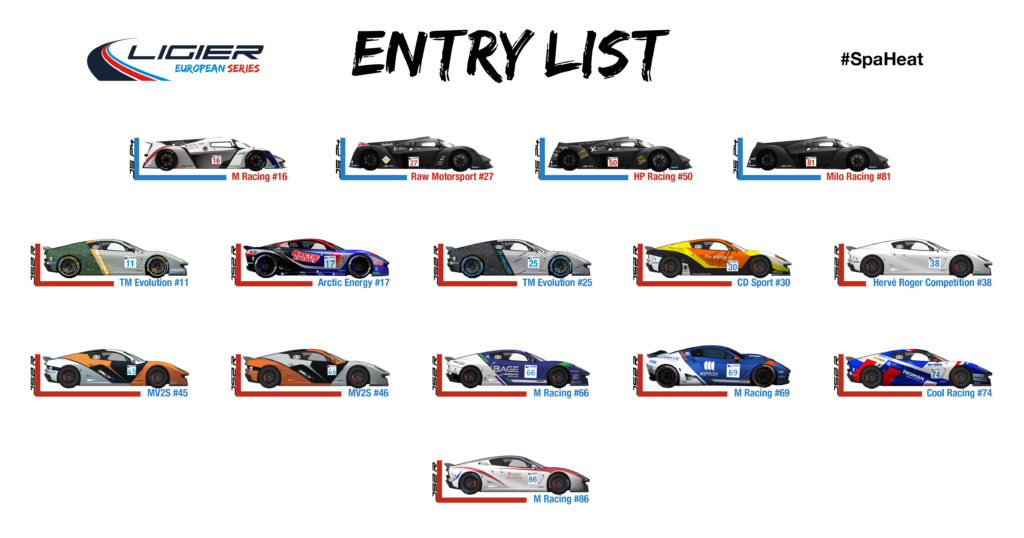 Press Release, 31 July, 2020
July 31, 2020 – Season one of the Ligier European Series made a successful debut two weeks ago, on the 17th and 18th of July at Circuit Paul Ricard in France. Now comes Heat 2 of 2020, at Spa-Francorchamps on August 7th and 8th with a strong field of 15 Ligier JS2 Rs and Ligier JS P4s. There will be new drivers in Ligier JS2 R and a new British team in JS P4 with Raw Motorsport joining the action. On a demanding circuit such as Spa-Francorchamps, outstanding battles are expected!
Ligier JS2 R: Cool Racing and Sébastien Baud, who dominated at Le Castellet, don't intend to let up!
In Heat 1 at Circuit Paul Ricard, 19-year-old native of Haute-Savoie, Sébastien Baud, in the #74 Ligier JS2 R of the Swiss Cool Racing team vanquished the competition, taking one category pole and the win in both the weekend's races.
"I am super excited, like a kid", Sébastien tells us. "Getting back in the car just three weeks later is fantastic! And this will be my first time at Spa. I have wanted to go for years, but it never came about. It's a legendary circuit, very fast. I am trying not to think too much about the fact that I am leading the championship and to go there with the same attitude as in the first race: serious and motivated with the goal of winning. I have been preparing myself mentally and physically with my team. I watch videos, train on a simulator, analyse data. I am looking forward to it!"
In second and third place in the general classification, two Ligier JS2 Rs of the French M Racing team: the #69 Ligier JS2 R with Erwan and Natan Bihel, who finished twice runner-up at Le Castellet and the #66 Ligier JS2 R with Laurent Millara, who took a fourth and third place result last time out.
Attention must also be paid to the very quick Victor Shaytar in the #45 MV2S Racing Ligier JS2 R, who claimed the maiden pole of the season and the fastest lap in race 1 and 2. In the #46 sister car, Antoine Chapus will have a new team mate, Belgium's Laurent Richard, who is a regular in the Peugeot Cups.
Three additional new drivers will also make their debut in the Ligier European Series.
In the #25 TM Evolution Ligier JS2 R, Harry Eak from Switzerland, Am driver in the 2019 French FFSA GT Championship, will share the wheel with Bruno Chaudet.
In the #38 HRC Ligier JS2 R, the tandem of Marc Guillot and Jean-Marc Thevenot, who finished third in race 1 will be replaced by French GT4 champion, Fabien Michal and the young and promising Clément Seyler from Luxembourg.
Ligier JS P4: newcomers Raw Motorsport are ready to challenge HP Racing Team and Milo Racing
In the Ligier JS P4, HP Racing Team and Andrea Dromedari at the controls of the #50 car lead the category, but will have to contend with two new competitors. First M Racing and its #16 Ligier JS P4 with the young French driver Sacha Lehmann from the Institut de Pilotage Automobile who had to sit out at Castellet 1 due to medical issues. And then there will be the British Raw Motorsport team and its #27 Ligier JS P4 driven by the tandem of brothers Andrew and Jeremy Ferguson.
"I have been racing with my brother Jeremy for the past fifteen years in in Radicals – all classes – and Spyder already with Raw Motorsport", comments Andrew. "We purchased a Ligier JS P4 last year and a Ligier JS P3. The LMP3s are more expensive to race, so the JS P4 offers a more affordable race weekend. This is why we have both! We plan to race in selected rounds of the Ligier European Series this year and may do the full series next year. We love the tracks in Europe, especially Spa. So we're really looking forward to this race!"
The #81 Ligier JS P4 of the all Belgian Milo Racing team and its drivers Christophe Nivarlet and Kevin Balthazar, who finished second and third in the two races, will also have to be reckoned with. The team is eager to take its first victory and to make its homeland proud.
The two Ligier JS P4s of Larbre Compétition, which competed in the first Heat of the year will not be present at Spa but should make their return for the rest of the season.
The Spa Heat kicks off on Friday at 10:15 am with a 1-hour free practice session. The two 20-minutes qualifying sessions which will determine the starting grid of each race are set in the afternoon at 1:55 pm and 4:15 pm. The weekend culminates with two one-hour races on Saturday morning at 9:20 am and Saturday afternoon at 1:15 pm.
CLICK HERE for the Spa Heat provisional entry list