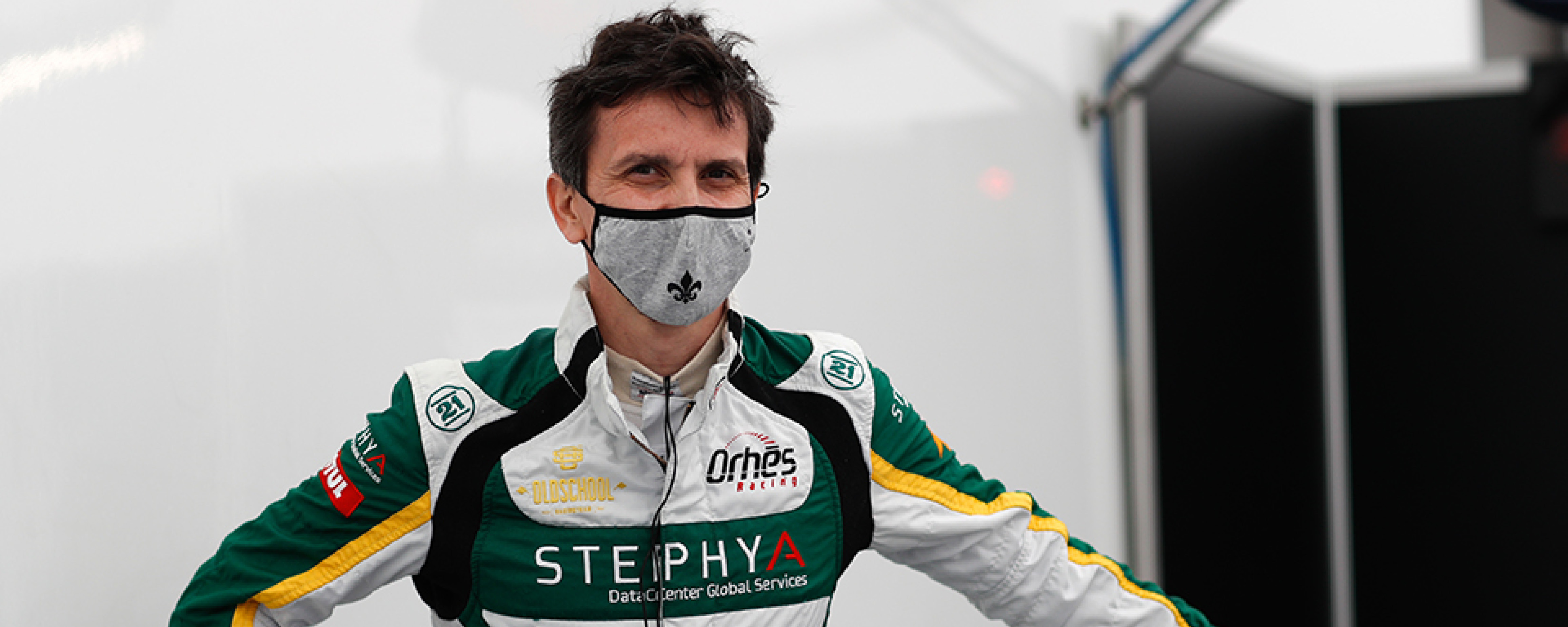 French comedian and humorist Arnaud Tsamere took his first steps in the Ligier European Series on 16 and 17 April at the Barcelona circuit in Spain. The gentleman driver was invited by the Orhès Racing team to drive his second Ligier JS2 R, the #25, alongside Alain Bucher. An instructive experience that put a smile on his face.
Arnaud Tsamere was eager to get back behind the wheel of the Ligier JS2 R, which he had already tried out last year in 2020 during a test day at Magny-Cours. The reunion took place at the Barcelona circuit for the opening round of the second season of the Ligier European Series.
Gentleman driver since 2013, Arnaud Tsamere was able to take a grip on the car during the free practice session on Friday 16 April in the early morning, before starting the stopwatch in the afternoon during qualifying. On Saturday 17 April, the adrenaline was at its peak as the first two races of the season approached. While they finishing race 1 at the back of the pack, Arnaud Tsamere and his teammate Alain Bucher were able to demonstrate their offensive (and defensive!) skills during race 2. Their efforts paid off as the duo in the #25 Orhès Racing Ligier JS2 R finished sixth.
After the weekend, the comedian shared his anecdotes and his impressions of his first experience in the European series.
Do you have a ritual before a race?
It's too dangerous to have a ritual because if you forget something, you're in a negative mood. So I prefer not to have anything!
Do you feel more pressure before getting on stage or before getting into a racing car?
If I had been asked 15 years ago, I would have said that there is more pressure before going on stage. But now I'm not nervous at all before going on stage and that's why I love motorsport so much. Getting into a racing car allows me to regain this feeling of stage fright, adrenaline and stress.
Is it what you're looking for in motorsport?
Obviously, these are sensations that we are looking for. As soon as you get out of the car, you want to go back. It's in those stressful moments, when you're about to experience something extraordinary, that you feel alive. You suddenly have the feeling that you are experiencing something special. It's special to get into a race car on a racetrack, just like it's special to get on stage alone in front of the audience. So it's quite an addictive feeling.
What has changed between your first and your last race?
My lap times (laughing)! What has changed is my investment, which is stronger and stronger each race. This is part of the progress that I want to make at my level. I still have the feeling that I have a lot of things to learn, so that's why I take the opportunity during each meeting, each practice, each race to talk as much as possible with the engineers and with Olivier Pernaut who is an experienced driver.
What was your favourite moment of the weekend?
The time I made in qualifying. You can see me in the car being happy when the lap time comes up!
What's your favourite thing about the Barcelona circuit?
Turn 10, which has been redesigned and is totally different from the old version. I already knew the rest because I drove there a few years ago and also because now, on the simulator, it is so realistic that I know this circuit like the back of my hand.
The Ligier JS2 R in three words?
Easy, efficient and fast!
And finally, the Ligier European Series in three words?
Conviviality, professionalism and fun!