In May 2021, French Formula 1 commentator Julien Fébreau was invited to drive the #25 Orhès Racing Ligier JS2 R at the Red Bull Ring in Austria. On this occasion, he agreed to appear in front of the Ligier European Series microphone for a joint interview about his profession as a commentator and his activity as a gentleman driver.
"Rendezvous at the first corner" is a gimmick well known to Canal + subscribers, who have been used to Julien Fébreau's commentary for almost ten years. But what Formula 1 fans may not know is that their favourite commentator has also been a driver since his younger days. French Rallycross Championship, Trophée Andros, Mitjet… Julien Fébreau is not new to the world of racing and proved it during the two races of the Ligier European Series in Spielberg. His very good start in race 2 and his battles with the rest of the Ligier European Series field impressed many!
A few hours before the start of the weekend, Julien Fébreau played the question and answer game. Switching between his commentator's and driver's hats, he talked about his preparation, his preferences and his memories, both good and bad.
How do you prepare before a race weekend?
Commentator: I start to prepare the next race weekend right after the F1 weekend is over. It's a continuous work from the chequered flag of the Grand Prix to the beginning of the free practice of the next Grand Prix. It's like school, I collect as much information as I can, I call as many people who work in F1 as I can so that I'm ready for the next Grand Prix.
Driver: I watch a lot of videos on the internet and from my teammates. I talk with the team manager and the engineers to get all the information on the car and the track. I watch lot of videos to know everything I need before the beginning of free practice, to be truly able to focus on improving my performance.
What do you expect from a race weekend?
Commentator: There must be some battles! Regardless the winner, regardless the team, I like when there is some fighting between drivers, between teams. I expect to be moved, to receive a lot of emotions from what is happening on the track to share those emotions as best as possible with Canal + subscribers.
Driver: When I discover a discipline like the Ligier European Series and when I discover a car, I need to be confident as quick as possible, but at my own pace. From here, I need to improve, to be more and more efficient and faster without making mistakes, because when you make mistakes you regress. I'm always in progression and in progressiveness when I take on a challenge like this one!
What is your favourite part of a race?
Commentator: Without a doubt the start of a F1 Grand Prix! Because it's the most intense moment and paradoxically, I have less things to say because I just have to give rendezvous at the first turn to the audience. It's the moment when I can be spectator for a few seconds and feel if we're going to see a particular Grand Prix or not.
Driver: The start of the race when I'm driving. Because at that moment, your heart beats faster, you have everything to win or to lose. It's the moment to dare to do things, it's the moment when we're still together with the pack and when we still have hopes. They can fade at the first turn or still be there after the first turn.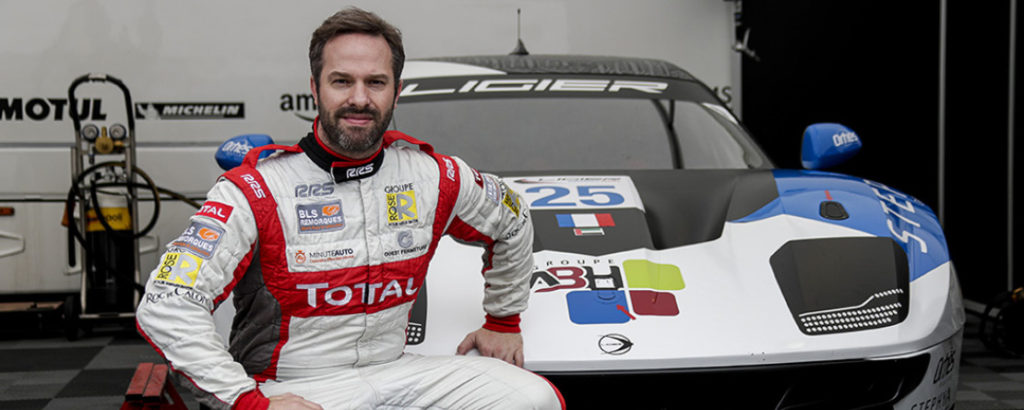 Can you tell us your best memory?
Commentator: Probably Pierre Gasly's win in the Italy Grand Prix last year. We experienced something exceptional on Canal Plus! I'm happy that Pierre's win has been associated to my commentary and to have been up to the task in this historic event for French sport, not only in motorsport.
Driver: My first win in Rallycross in 2011, it was actually my first win ever in motorsport. It happened at my home in Lohéac [in Brittany, France], with my friends and family. It was unexpected because the favourites in my category were there but I still won. It happened 20 years after my father won the same race!
And your worst memory?
Commentator: Serious accidents, I've seen two as a commentator. Jules Bianchi's one [in 2014], even though we didn't realise at that time the seriousness of the accident. And Romain Grosjean's [in 2020], we saw everything live but paradoxically he was fine. In retrospect, we feared for him.
Driver: The year after I won in Rallycross in Lohéac in 2011. I came back to Lohéac in 2012, I was in pole position and was leading the race but I was overtaken by a car on the final lap and I finished second. We say that second is the first of losers and on this day I was first of losers. It was hard to deal with.
Do you prefer a dry or a wet track?
Commentator: I prefer wet track, it brings incertitude. The drivers have to take risks, they have to act like acrobats!
Driver: Also wet track! Rallycross taught me some basics concerning sliding and grip changes. On a dry track, you have to be so effective that usually you cannot compete against those who are used to the car. A wet track can help you to get closer, not in front of, but closer to the best drivers.
If you had to choose between Formula 1, Rallycross and ndurance, what would you pick?
I'd choose Formula 1. It remains the most extreme, the most advanced technologically, the most incredible discipline. Sometimes, it goes beyond what is reasonable, F1 is all superlatives reunited in one place. That's why I love it.
And if you had to choose between driving and commenting?
If I had to keep only one thing… It's very hard… I would keep the wheel because driving a race car is extraordinary. But I would also add a mic to share my sensations and so I would become commentator-driver or driver-commentator to immerge even more people who like motorsport in my car and in my passion!