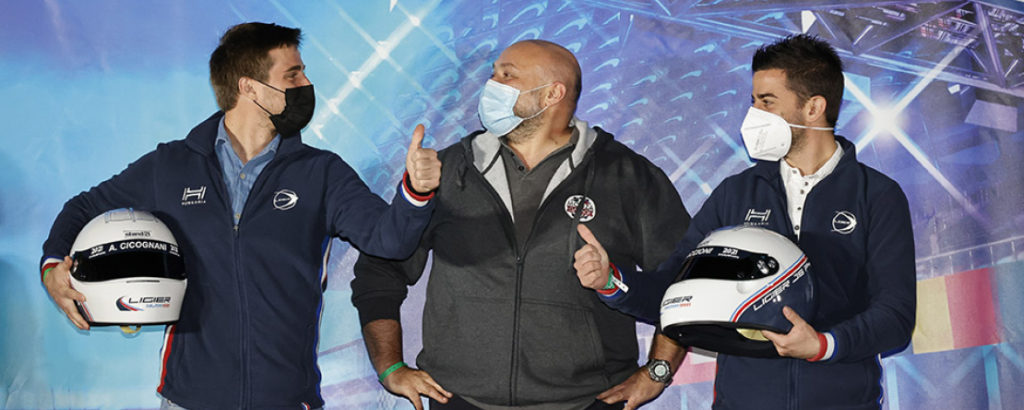 Jacopo Faccioni and Alessandro Cicognani are the 2021 Ligier JS P4 Champions in the Ligier European Series. For the second consecutive season, the Italian HP Racing team won the title in the sport-prototype category. Double pole positions, double victories… A look back at a season largely dominated by the drivers of the #23 Ligier JS P4.
HP Racing goes back-to-back! The Italian team won the 2020 Ligier JS P4 title (team and driver, with Andrea Dromedari). This year, HP Racing shares the sport-prototype category laurels with Monza Garage, which operates the car, and its two drivers Jacopo Faccioni and Alessandro Cicognani.
In April, the Italian duo won a pole position and a victory in their first race meeting in Barcelona. It was a promising start for the pair, who are both quite excited about the Ligier JS P4, which they both drove for the first time. "It was a fantastic weekend," said Alessandro Cicognani after his first win. It is a great car, and I'm happy to see some of my old rivals here. I had not raced for eight years, so it wasn't easy to find my driving instincts." "We still need to improve," added teammate Jacopo Faccioni. But it was somewhat unexpected, and we are delighted with it. It's a good car and fun to drive."
The #23 Ligier JS P4 made its mark in Austria in May at the second round. Once again, the colourful duo took pole position and victory at the Red Bull Ring after a great battle with its rival, Les Deux Arbres (and its two Ligier JS P4s, the #33 and #34). "With rain and dry conditions, strategy played an important role in this race," commented Jacopo Faccioni after the race.
But it was in June, at Circuit Paul Ricard in Le Castellet, where the team had its best weekend of the season. Free practice, qualifying, races… Jacopo Faccioni and Alessandro Cicognani didn't let their rivals have any respite and dominated the sessions one after the other. What a weekend", exclaimed Alessandro Cicognani. Best time in free practice, double pole position, double victory, fastest lap in the race. I only wish every weekend is like this! I hope we can do it again at Monza, on home soil!"  The team now was the clear-cut leader in the championship.
Monza in July brought more trouble for the Italian team, who had to settle for a pole position and a victory against the increased competition. After the summer break, the drivers returned to form at the fifth and penultimate Heat at Spa-Francorchamps, in Belgium. Once again, the #23 HP Racing by Monza Garage Ligier JS P4 dominated its fellow competitors, taking a second double pole position and a second brace of victories.
With a 37-point lead, the title was getting closer and closer. But the final weekend in Portimao was not a stroll in the park for Jacopo Faccioni and Alessandro Cicognani. Although they managed to take the second pole position in the final round, the #23 was retired in both races.
Thanks to their strong showings throughout the season, the two drivers won the Ligier JS P4 Championship title with flying colours. "It's been a great season," commented Alessandro Cicognani at the awards ceremony on Saturday, 23 October. "It had been eight years since I last put on my helmet, so to be here, in a championship and with a magnificent context, with superb cars, was very emotional. With Jacopo being not only a teammate but also a friend, I couldn't ask for more." "My strategy to try to be ahead of all our competitors was to give everything on every lap," concludes Jacopo Faccioni. "We had a great season; we loved every minute, and we are ecstatic about winning the title." 
However, it was a close call for HP Racing by Monza Garage, which won the JS P4 Team title by just 12 points over Les Deux Arbres.