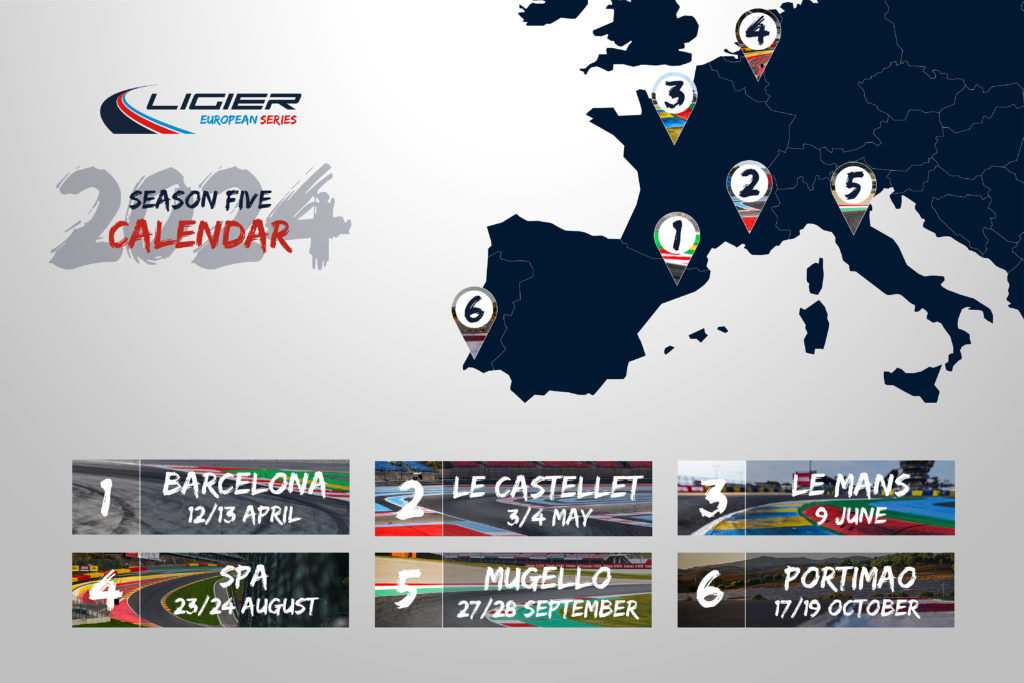 Press Release – 21 September 2023
As the fifth and penultimate round of the 2023 season gets underway at the iconic Spa-Francorchamps circuit in Belgium, the Ligier European Series announces its 2024 calendar. And for its fifth season, the European series has a five-star calendar in store for its competitors on Europe's finest circuits. For the third year running, the Ligier JS2 R and JS P4 drivers will have the unique opportunity to race on the world's most prestigious endurance circuit, the 24 Hours of Le Mans. For the first time in the championship's history, they will also be heading to the heart of Tuscany, to the Mugello circuit in Italy.
As was the case this year, six rounds, each comprising two races, will be on the programme in 2024. The series will follow the calendar of its big sister, the Michelin Le Mans Cup. The substantial prize packages worth €250,000, which enable the champions of the Ligier JS P4 and Ligier JS2 R categories to continue their ascent up the endurance racing pyramid*, will be continued.
* €150,000 for the Ligier JS P4 champion(s) to compete in the Michelin Le Mans Cup the following season behind the wheel of a Ligier JS P320, and €100,000 for the Ligier JS2 R champion(s) to move up to the Ligier JS P4 category in the Ligier European Series the following year.
Six heats on Europe's most prestigious tracks
The series will kick off in Spain for the second consecutive season at the much-admired Circuit de Barcelona-Catalunya on 12 and 13 April 2024. Then it's off to the Circuit du Castellet in France on 3 and 4 May, before heading to the eagerly awaited Le Mans event, on the 24 Hours of Le Mans circuit, during the 9 June Test Day. The teams and drivers will lead the way in the first post-centenary edition of the 24 Hours of Le Mans alongside the Hypercars, LMGT3s and LMP2s.
After a well-deserved summer break, the competitors will return to the Spa-Francorchamps circuit in Belgium on 23 and 24 August. For the first time since the series debuted in 2020, the Ligier JS2 R and Ligier JS P4 drivers will visit Mugello in Italy on 27-28 September. As in previous years, the season will conclude in style on the breezy shores of Portugal at the Autódromo Internacional do Algarve on 17-19 October.
All the pieces are in place to make 2024 a season to remember.
2024 Calendar
Barcelona Heat (Spain): 12/13 April 2024
Le Castellet Heat (France): 3/4 May 2024
Le Mans Heat (France): 9 June 2024
Spa Heat (Belgium): 23/24 August 2024
Mugello Heat (Italy): 27/28 September 2024
Portimão Heat (Portugal): 17/19 October 2024